Last call! Statehouse Futures Summit this Wednesday
This Wednesday, July 19th from 12PM - 4PM ET, you're invited to join the third annual Statehouse Futures, a free, virtual policy and strategy summit for leaders working to deepen democracy in cities and states across America.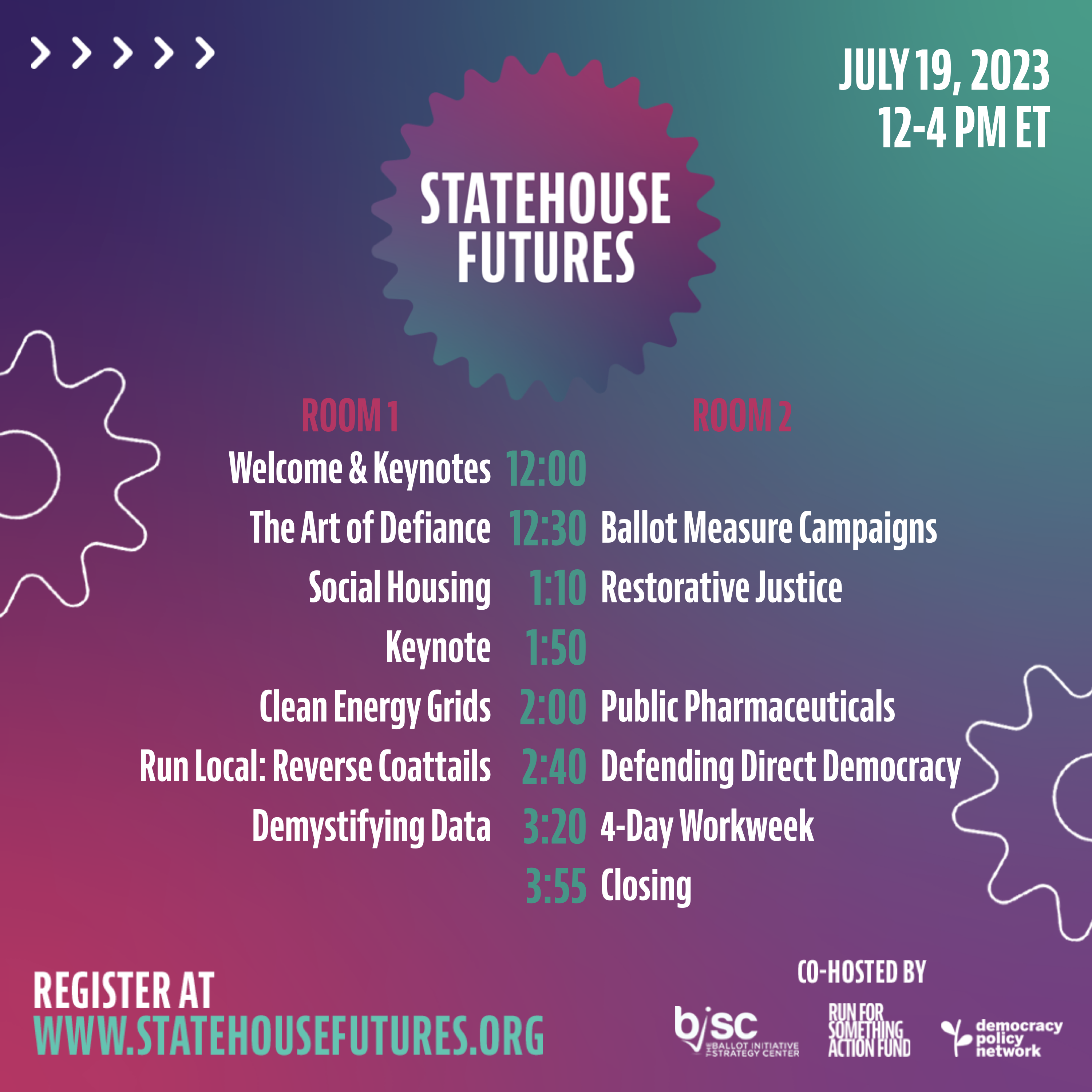 We're excited to be co-hosting Statehouse Futures alongside the Run for Something Action Fund and the Ballot Initiative Strategy Center again! Statehouse Futures is an annual gathering that features panels on transformative policies your fellow leaders plan to push next year and workshops on strategies to help you raise up big policy ideas in your state. Anyone interested in the future of state policy and advocacy is welcome to attend!
This year's program includes policy and strategy sessions on:
💪 The Art of Defiance: How to be an effective progressive leader
🏗️ Social Housing
🗳️ Strategic Imperatives of Ballot Measure Campaigns
⚖️ Restorative Justice
♻️ Clean Energy Grids
🏠 Run Local: How reverse coattails works
🏛️ Defending Direct Democracy
💊 Public Pharmaceuticals
📅 4-Day Workweek
📣 Effective Progressive Communication Tactics
Check out www.statehousefutures.org to see the latest schedule and line-up of speakers. If you missed last year's summit, you can access recordings of the sessions on our YouTube channel here.
Have a friend who might be interested in joining? Feel free to pass along our invitation—all democratically-spirited, policy-minded state and local leaders are welcome to attend. We hope to see you there!