💊🕊️ Public Medications + Restorative Justice: Two Upcoming Briefings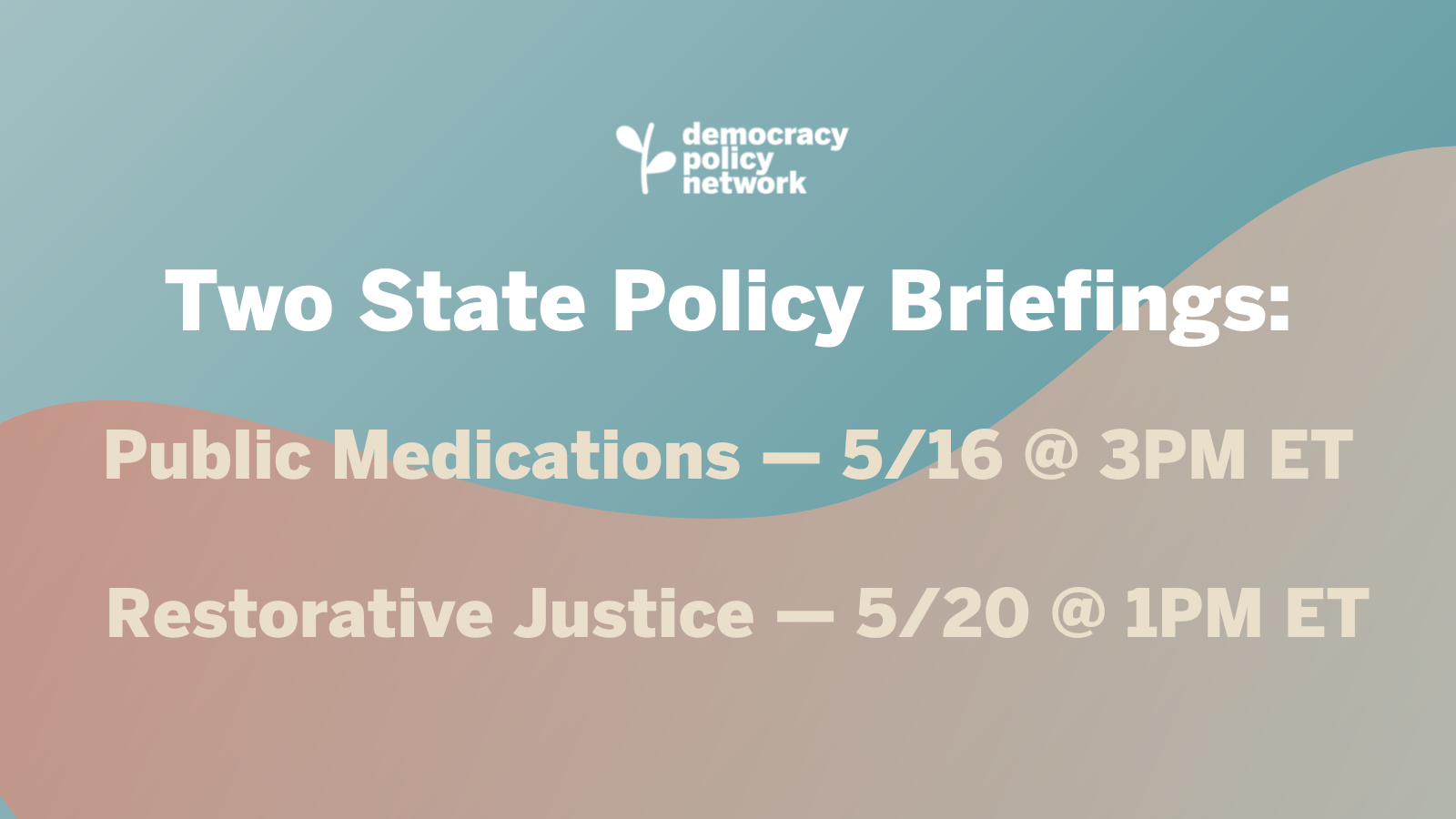 In May, the Democracy Policy Network is hosting two video state policy briefings on promising policies for deepening democracy: on Public Medications and Restorative Justice.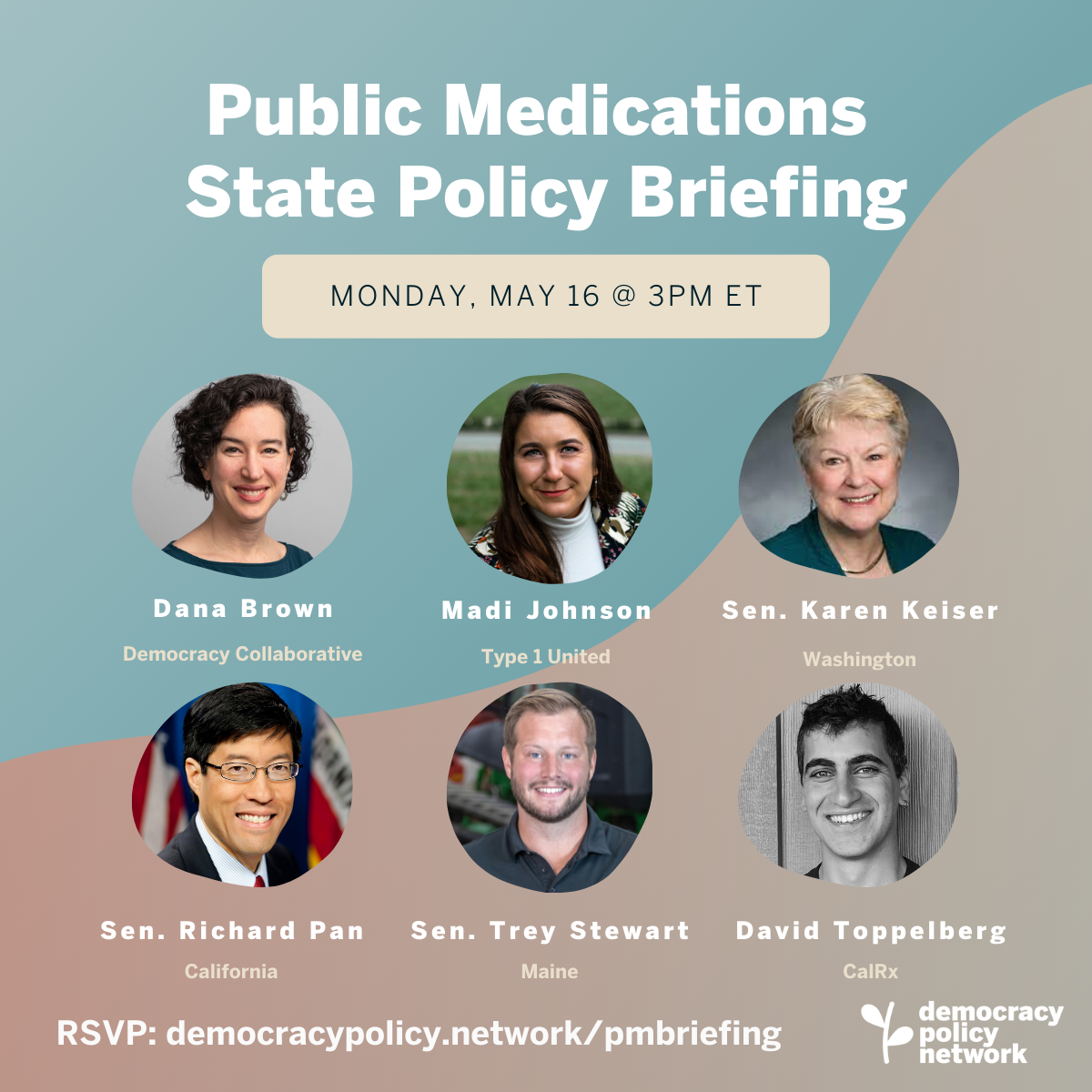 💊 On Monday, May 16th at 3PM ET is our briefing on state policy for the public production and provision of medication
A new vista is opening up in the fight for more affordable medication: Publicly-owned pharmaceutical enterprises, created by states to develop, manufacture, and distribute medication in the public interest. California is taking steps to produce its own low-cost insulin and Washington and Maine's state legislatures are moving to empower their state governments to partner with other states or organizations to produce, distribute, and purchase generic prescription drugs. Learn from experts, advocates, and legislators on the front lines of Public Meds about how your state can break Big Pharma monopolies, address shortages, and lower prices for your residents.

Speakers include: Dana Brown (Democracy Collaborative), Madi Johnson (Type 1 United), Sen. Karen Keiser (WA), Sen. Richard Pan (CA), Sen. Trey Stewart (ME), David Toppelberg (CalRx), Donna Sullivan (Washington State Health Care Authority)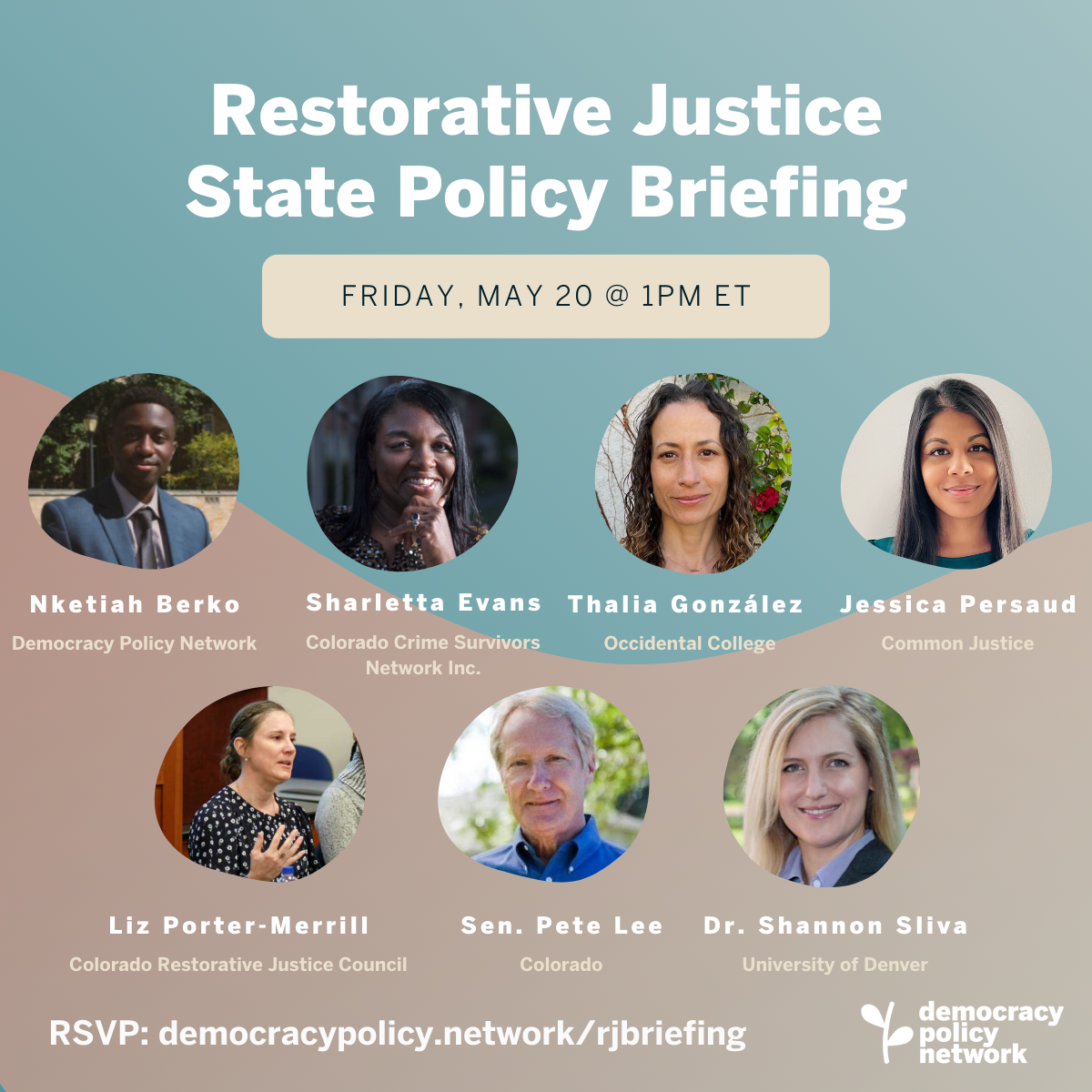 🕊️ On Friday, May 20th at 1PM ET is our briefing on state policy for broadening restorative justice practices

The current criminal legal system fails to address the needs of harmed parties, offending parties, and communities writ large. A greater integration of and financial support for restorative justice processes throughout the criminal legal system, however, has the potential for transformative change. Taking many forms, from victim-offender dialogues to community conferences, this approach to harm rejects retribution and instead acknowledges the diverse needs of harmed parties, offending parties, and their communities alike. Fortunately, many cities and states are experimenting with new forms of restorative justice, from Colorado's Restorative Justice Coordinating Council to Vermont's Community Justice Centers. Join us to learn from experts, advocates, and legislators at the frontier of advancing this model

Speakers include: Nketiah Berko (Democracy Policy Network), Sharletta Evans (Colorado Crime Survivors Network, Inc.), Thalia González (Occidental College), Jessica Persaud (Common Justice), Liz Porter-Merrill (Colorado Restorative Justice Council), Dr. Shannon Sliva (University of Denver), Sen. Pete Lee (CO)
Hope you can join us! And, as always, if there is a promising state policy for deepening democracy you think we should be promoting to our network of state leaders across the country, please reach out.