Reflections on DPN's Summer Policy Organizer Program
Tapping into a latent army of policy organizers

Here's the problem we have been working to solve with DPN: There's a new generation of state legislators storming into statehouses across America, but despite their momentum, when it comes to policy, they remain under-staffed, under-resourced, and under-supported. That's our challenge: to find a way to provide these trailblazing state legislators with the policy support they need to deepen democracy.
The traditional way to fill this state policy gap is to create a new "interstate policy think tank" or "interstate policy lobbying group."  But in talking to Movement experts, advocates, and legislators across the country, we realized that this isn't what's needed, for the Movement's ideas are already out there and the Movement's legislators are already ready to champion them. Rather, what's needed is better interstate organization and coordination for the Movement in the states: a system for gathering, packaging, and amplifying promising state policies and a network of legislators intent on championing them. Not a think tank or a lobby shop, but a clearinghouse and a network — that's what DPN is working to build.
Policy organizing: a new way to participate
At the center of our policy system are policy organizers: passionate people working to gather promising state policies from Movement experts and advocates, package them into useful policy kits for our network of state legislators, and amplify them to legislators, journalists, and the public at large.
What our policy organizer program has done is tap into an undertapped resource: a latent army of young people who want to participate in politics in a substantive way, but who have been told that policymaking requires an advanced degree and years of experience working at a think tank. Perhaps such experience is needed to generate certain complex policies. But what we have discovered over the past year is that a much wider range of people than previously thought — from graduate students to young activists in non-political day jobs to young-at-heart retirees — have the desire and ability to gather and package high-quality policy resources for state legislators.
Through active recruitment, training, mentorship, and editing — by providing a simple, step-by-step process for plugging in and being useful to the DPN policy process — DPN taps into this undertapped resource.
In developing this model, we have been inspired by the precedent of the Nader's Raiders in the 1960s and '70s. Through a flurry of Consumer Movement reports and campaigns created on shoestring budgets — The Interstate Commerce Omission, Chemical Feast, Vanishing Air, Water Wasteland, Sowing the Wind, The Madness Establishment, Damming the West, and more — this army of amateurs counterbalanced corporate lobbying by mastering the art of gathering, packaging, and amplifying bold policy ideas. In doing so, they mixed research, media panache, and legislative networking to turn what could have been boring, impotent reports into a powerful policy machine. Most importantly, the whole operation served as a training academy for turning brainy idealists into super-citizens — and thus led to the flourishing of hundreds of new leaders and organizations in the public interest movement.

The 2020 Summer Policy Organizer Program
This summer, we recruited 36 policy organizers from around the country for our first-even "Summer Policy Organizer Program."
We started by assigning each of our policy organizers to a policy project (ex. "prison oversight," "teenage voting," "clean water.") We then trained our policy organizers to scour the Movement for reports and precedents — and to pick up the phone to speak with experts and practitioners. We then took that research and, with an eye toward
our vision of a deeper democracy, began to package it into organized, accessible, and useful policy kits for state legislators. These kits aim to consist of everything you need to champion the policy: background context, detailed explanations of policy elements, case study analysis, talking points, model legislation, packets of articles to read for more information, a list of experts to contact for further inquiries, and more.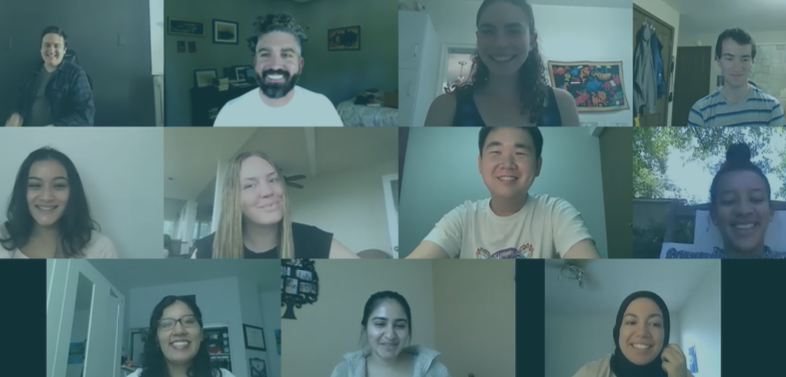 Throughout the summer, our policy organizers contacted over a hundred Movement advocates and experts and produced 20 policy briefs on bold, under-discussed ideas for deepening democracy — from policing alternatives to tenant unions to democracy vouchers.
We have been amazed by our policy organizers' work. Our restorative justice team is packaging a policy from New Zealand about automating restorative justice options into the criminal legal system. Our civil legal aid team has been putting together a model for how states could establish public civil legal justice offices in every zip code. Our public pharma team has been packaging what we know about California's plan to publicly manufacture pharmaceuticals. Our tenant union and community land trusts team has been packaging everything state legislators need to know about a state-level "Tenant Opportunity to Purchase Act" and how that could interact with the community land trusts movement. I could go on, but for now let me just say this: Stay tuned — our first two policy kits stemming from their work is live and we have dozens more kits in the pipeline.
Become a DPN policy organizer
In the coming weeks, in addition to continuing the work of turning our summer policy organizers' research into policy kits, we are also building on the summer program's success by launching our Fall Policy Organizer Program. If you or anyone you know is interested in becoming a DPN policy organizer,  email Pete@DemocracyPolicy.network or click "Join Up" in the top-right of our website.