Statehouse Futures 2023: A Recap
Last Wednesday, we at the Democracy Policy Network, alongside the Run for Something Action Fund and the Ballot Initiative Strategy Center, co-hosted our third annual Statehouse Futures Summit. Over a thousand state lawmakers, legislative staff, candidates, journalists, and advocates representing all 50 states registered to attend, making it one of the largest state policy and strategy gatherings for deepening democracy in America this year.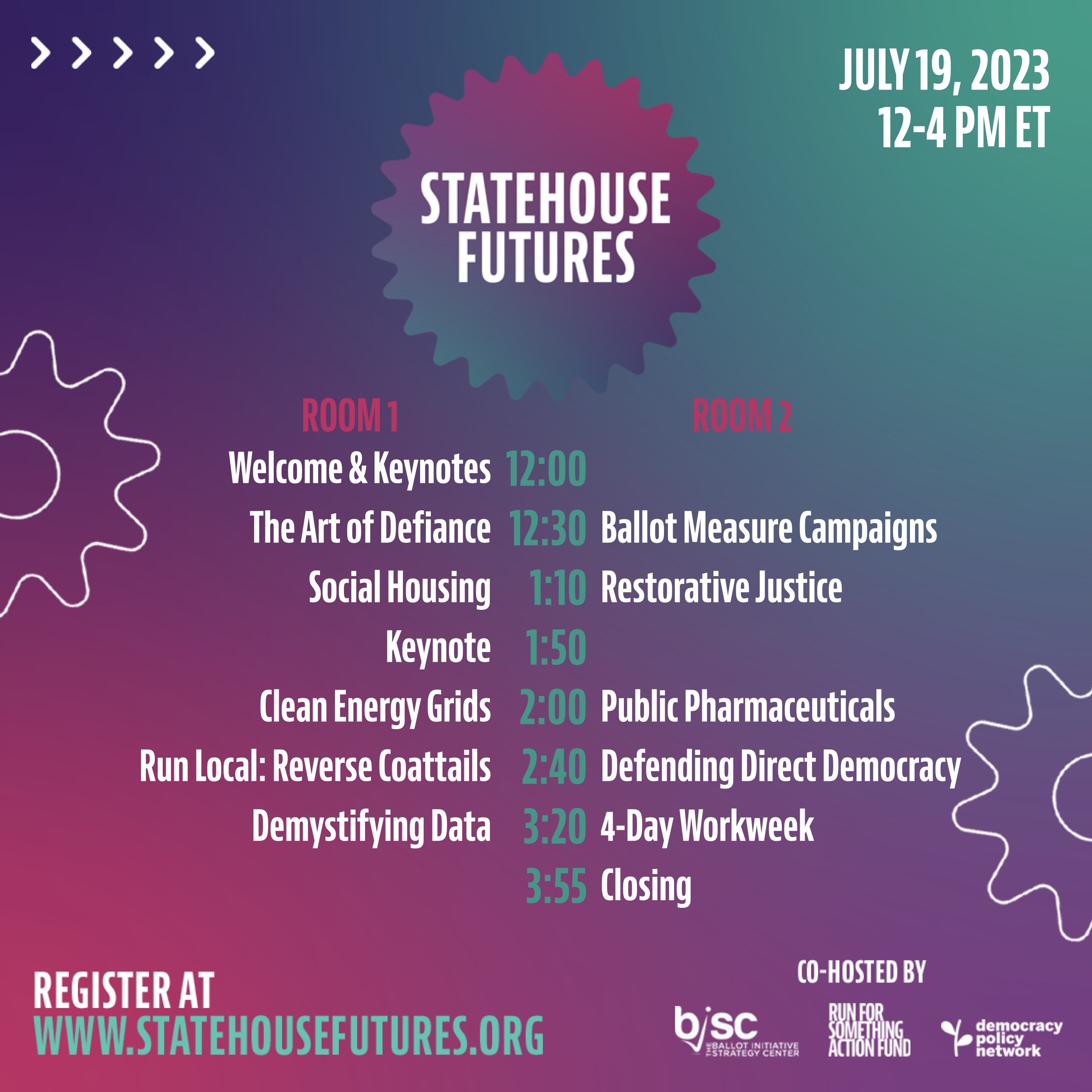 If you missed the summit, we fortunately have videos of the panels:
Welcome and Keynotes
Pete Davis, Director of Democracy Policy Network
Amanda Litman, Co-Founder and Co-Executive Director, Run for Something
Chris Melody Fields Figueredo, Executive Director of the Ballot Initiative Strategy Center (BISC)
Arekia Benentt-Scott, Mississippi Votes, Executive Director
Senator Mallory McMorrow, Michigan State Senate
Esther Agbaje, State Representative, MN House of Representatives
Strategic Imperatives of Ballot Measure Campaigns
Marsha Donat, Capacity Building Director, Ballot Initiative Strategy Center
Art of Defiance: How to be an effective progressive leader
Nabilah Islam, Georgia State Senator
Laurie Pohutsky, Speaker Pro Tempore, Michigan House of Representatives
Manny Espitia, Northern Regional Director, Run for Something Action Fund
Social Housing
Pete Davis, Director of Democracy Policy Network
Paul Williams, Executive Director, Center for Public Enterprise
MiDian Holmes CEO, The Epitome of Black Excellence & Partnership
Daniel Denvir, Reclaim RI/The Dig podcast
Restorative Justice
Nketiah ("Ink") Berko, Policy Organizer at Democracy Policy Network
Alicia Virani, The Rosalinde and Arthur Gilbert Foundation Director, Criminal Justice Program, UCLA School of Law
Tarek Maassarani, restorative justice practitioner + Honeycomb Justice
Clean Energy Grids
Blair St. Ledger-Olson + Legislative Director + Climate Cabinet Education
Rep. Jamie Long, Majority Leader, Minnesota House of Representatives
Public Pharmaceuticals
Pete Davis, Director of Democracy Policy Network
Dana Brown, Director of health and economy, Democracy Collaborative
Allison Hardt, Community Development Director, T1International
Chris Noble, Organizing Director, Health Access CA
Defending Direct Democracy
Gina Berne, Senior Manager, Defend Direct Democracy, BISC
Sarah Walker, Director of Legal & Policy Advocacy, BISC
Run Local: How reverse coattails works
Caprice Edmond, Pinellas County School Board Member
Senator Megan Hunt - Nebraska Legislature
Amanda Gonzalez, Clerk and Recorder, Jefferson County Colorado
Luisa Santos, Board Member, Miami-Dade School Board
Shu-Yen Wei- Western Regional Director, Run for Something Action Fund
4-Day Workweek
Pete Davis, Director of Democracy Policy Network
Delegate Vaughn Stewart, Maryland General Assembly
Juliet Schor, Professor of Sociology Boston College + Lead Researcher 4 Day Week Global
Demystifying Data: Polling and Messaging to Shape Effective Narratives
Danielle Deiseroth - Executive Director, Data for Progress
---
If you found Statehouse Futures 2023 useful, you might find its co-hosts useful, too:
Learn more about how Run for Something Action Fund helps people run for office here.
Check out the The Ballot Initiative Strategy Center ballot measure hub, sign-up for BISC's weekly ballot measure news round-up, and apply for trainings here.
See you next year at Statehouse Futures 2024!