🌱 New Policy Kit: Public Pharmaceuticals 💊


Today, DPN, alongside the Democracy Collaborative and T1International, has released our Public Pharmaceuticals policy kit — an open resource for legislators, advocates, journalists, and citizens to learn how states can publicly manufacture and distribute pharmaceuticals.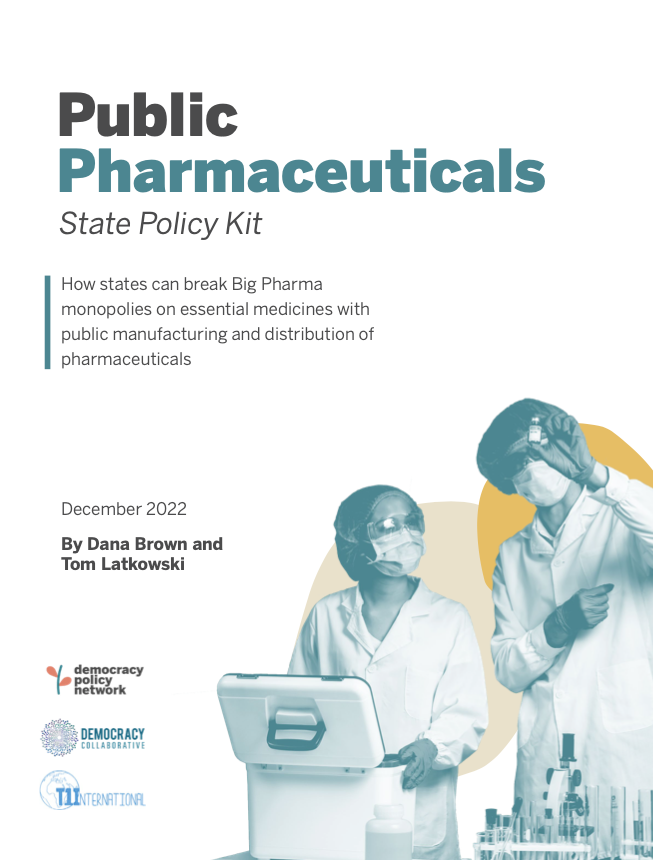 Americans pay sky high drug prices — nearly double that of other wealthy nations. This creates a massive financial burden for millions of Americans, leaving many unable to afford the medications they need to live healthy lives. Alongside high prices we see other common market failures, including routine shortages of essential medicines, declining innovation in critical areas, and incentives for misuse and dangerous mislabeling of medications.
States can address these problems by investing in the public manufacturing and distribution of generic medications. Modeled in part after recent legislation in California, Washington, and Maine (as well as several historic and international precedents), these policies could lower prices, increase supply of essential medicines, boost local economic growth, and improve transparency within the pharmaceutical industry.
Public Pharma initiatives are not only inspiring because of their potential to lower drug prices, combat shortages, and better serve patients — they are also especially significant because they demonstrate the power of public enterprise to address public problems.
If you are a legislator, activist, expert, or journalist looking to help promote these policies in your state, check out (and share) our kit — and please get in touch!