⚖️ New Video: DPN Conversation on Civil Legal System Reform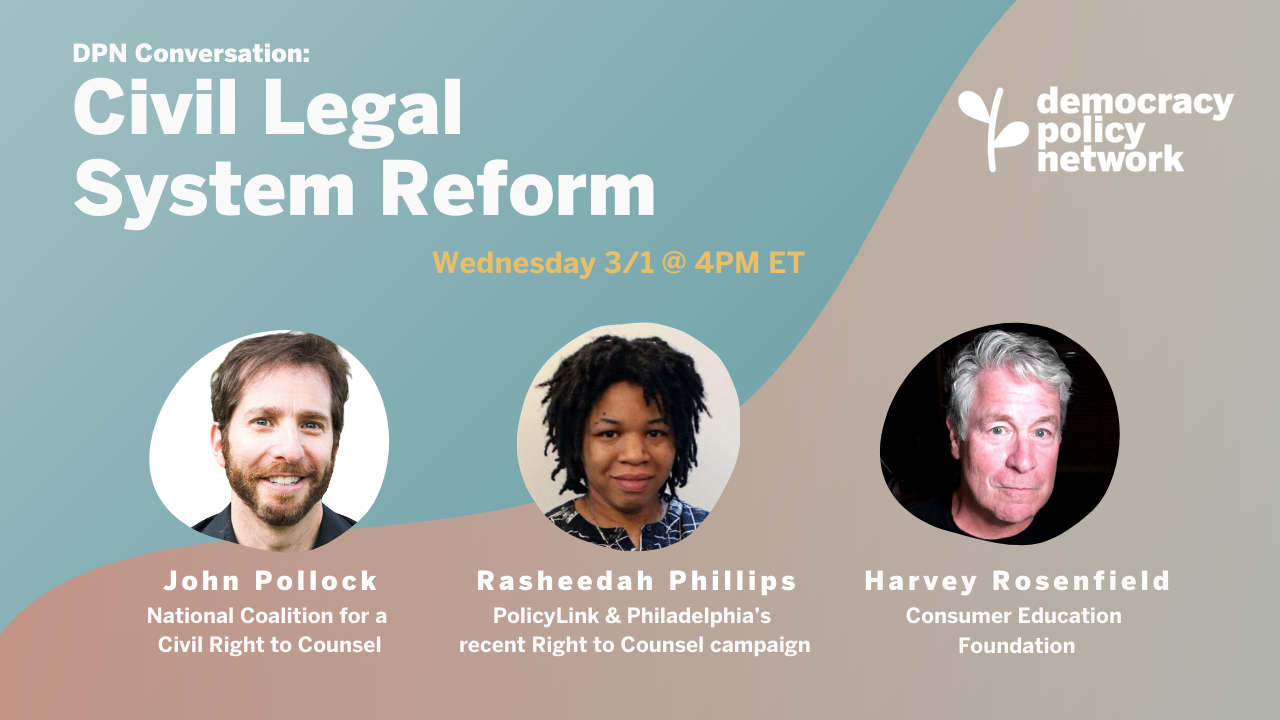 On March 1, DPN hosted our second 2023 DPN Conversation on the topic of Civil Legal Reform. The policy briefing explored: (1) the growing wave of "Right to Counsel" legislation expanding access to justice in cities and states across the country; and (2) the Consumer Education Foundation's groundbreaking Model State Consumer Protection Statute, designed to push back against the corporate takeover of state civil legal systems.
We spoke with John Pollock (Coordinator of the National Coalition for a Civil Right to Counsel), Rasheedah Phillips (PolicyLink Director of Housing and advocate in Philadelphia's recent Right to Counsel campaign), and Harvey Rosenfield (of the Consumer Education Foundation and co-author of Reboot Required: The Civil Justice System Has Crashed) to explore what you can do to reform your state's civil legal system to better realize the ideal: "Equal Justice Under Law."
DPN Conversations are monthly briefings for state leaders, staffers, advocates, and journalists interested in learning about transformative state policies for deepening democracy. Each month, DPN brings in a panel of experts, advocates, and legislators to share their story and answer questions about the nuts and bolts of raising up an inspiring and impactful state policy idea. Videos from past DPN Conversations — on ideas ranging from Public Pharmaceuticals and Social Housing to Cooperatives and Restorative Justice — are here.
To learn more or to suggest a policy you think should be featured in a future DPN Conversation, email Mike@DemocracyPolicy.network.