♻️🏦 New Video: DPN Conversation on Green Finance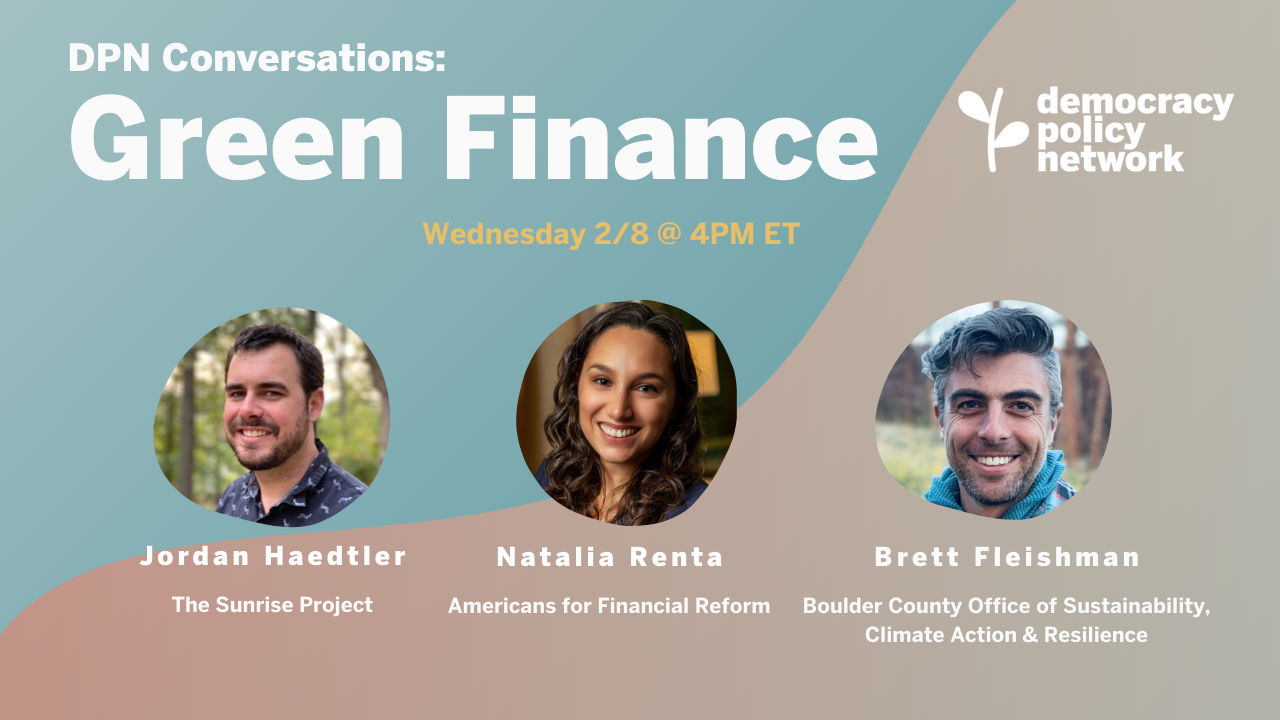 On February 8, DPN hosted our first 2023 DPN Conversation on the topic of Green Finance. The policy briefing explored what state leaders can do to ensure their state's financial policies, regulations, and institutions best mitigate climate change and support green energy transitions.
We spoke with Jordan Haedtler (former legislative staffer for the U.S. House Financial Services committee, and co-author of "State and Local Government and the Formation of Green Banks"), Natalia Renta (Senior Policy Counsel for Corporate Governance and Power with Americans for Financial Reform), and Brett Fleishman (Senior Climate Strategist for Boulder County, Colorado) to explore transformative state-level Green Finance policies, including: Inflation Reduction Act implementation ideas, city- and state-run "green banks," and proposals to mitigate the climate change risk exposure facing state budgets, pension funds, displaced fossil fuel workers, and insurance policyholders.
DPN Conversations are monthly briefings for state leaders, staffers, advocates, and journalists interested in learning about transformative state policies for deepening democracy. Each month, DPN brings in a panel of experts, advocates, and legislators to share their story and answer questions about the nuts and bolts of raising up an inspiring and impactful state policy idea. Videos from past DPN Conversations — on ideas ranging from Public Pharmaceuticals and Social Housing to Cooperatives and Restorative Justice — are here.
To learn more or to suggest a policy you think should be featured in a future DPN Conversation, email Mike@DemocracyPolicy.network.